Hyderabad is the capital of Telangana, India. It is known by the sobriquet- City of Pearls. The city is one of the largest metros in India with an area of 650 square kilometres (250 sq mi), having a population of 6.8 million in the city and 7.7 million in the metropolitan area, making it the fourth most populous city and the sixth-most populous urban agglomeration in the country.
Hyderabad was established in 1591 AD on the banks of the Musi River, on the tip of the Deccan Plateau by Sultan Muhammad Quli Qutb Shah. Now known as the historic old city, home to the Charminar, Falaknuma Palace, Chowmallah Palace and Mecca Masjid, Hyderabad offers all delegates/tourists a discerning experience.y.
Local attractions:
Whether for business or pleasure, Hyderabad has a lot to offer to its visitors. The beauty of the city and the music of its life, the smell, the aroma of the 'Spice of India' and of its traditions simply leave you spellbound. Here is a quick list that you simply can't miss!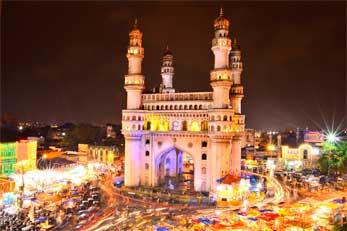 Charminar
Adjacent to Charminar is the famous Chudi Bazaar, and it will be like visiting Benaras and not setting foot on any of it's ghats if one decides to leave without paying it a visit! All kinds of endearing Bangles and trinklets in every conceivable colour and material can be found here. Bangles made of glass, lacquer, plastic, gold, pearls and silver, lay waiting to be picked up and grace feminine beauty. Karachi mehendi is something to be tried by ladies to make their arms look even prettier!
Chudi Bazaar
Built by Mohammed Quli Qutb Shah, the founder of Hyderabad, in 1591, is synonymous with it – Hyderabad, the minar. Located at the centre of the original city, Charminar lies in all its splendour amid Lad-Bazaar – Hyderabad's famous bangle destination. It is a symbol of co-existence and intermingling of Hindu and Islamic traditions. Imposing by the day and breathtaking when lit up at night, Charminar appears as the crown of the city! One can climb up the minaar for a panoramic view of the Bazaar and a lively city!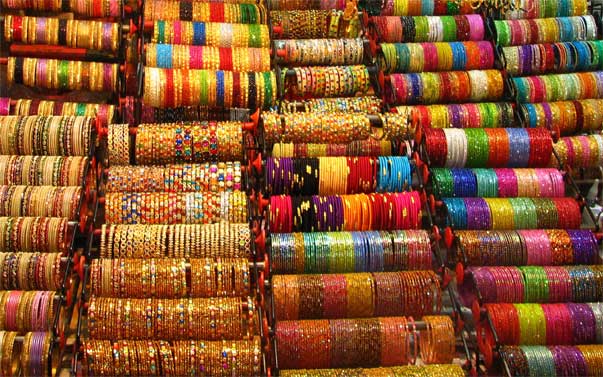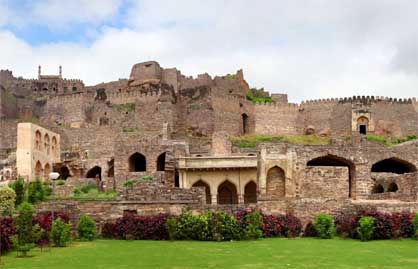 Golconda Fort
Golconda Fort, a UNESCO World Heritage Site, is a must see in Hyderabad. The massive granite fort, built on a 400 feet high hill and enclosing a circumference of seven kilometers, was built by Kakatiyas in 13th century and later by Qutub Shahi kings. The imposing Iron gates, winding alleys and large residential quarters, which of course is now only the remnants of once magnificent fortress is a marvel of military architecture! One can only wonder in awe at the engineering excellence that was employed in building this fort. Clap your hands at the far end portico and the sound miraculously reverberates inside King's chambers! Sound and light show every evening brings alive the different rulers who reigned Hyderabad at different times. This place is a must see!
City of Pearls
Some of the finest pearls are found in Hyderabad that has acquired the sobriquet 'City of Pearls'. The imperial patronage of Nizams who ruled the princely state of Hyderabad for over 200 years brought skilled craftsmen from distant places. They could make brilliant jewellery from nature's wonderful creation. Pearls are also called the 'queen of jewels', with its purity and matchless lustre! A visit to Hyderabad would be incomplete without shopping for some fine pearl jewellery.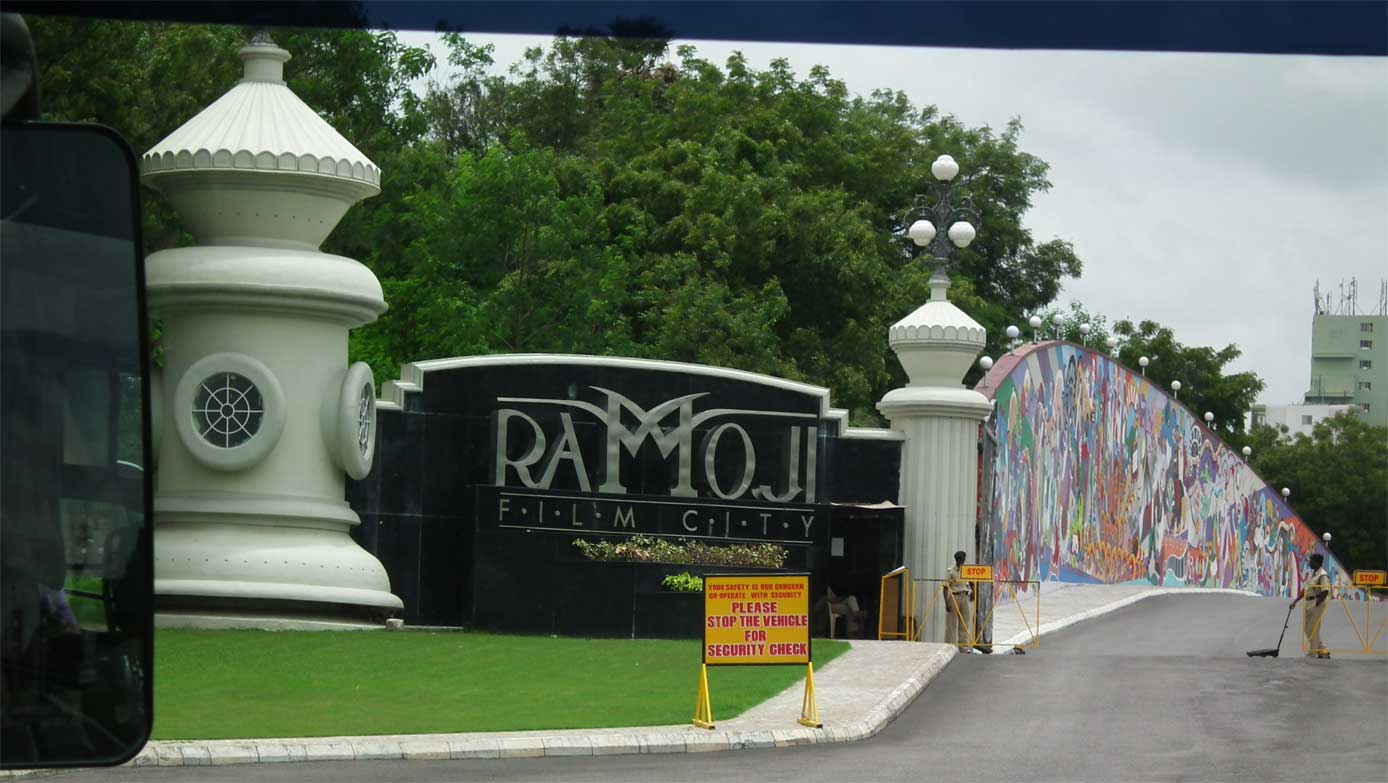 Ramoji Film City
A unique film facility which has become a theme park will surprise you by making you experience Bollywood, Mumbai, Delhi and even London here at Hyderabad! Yes, the largest film studio complex in the world spreads across 2,000 acres. The movie sets at Ramoji film city include the Taj Mahal, Brindavan Garden, Mumbai slum and also the streets of London! It houses a complete facility from pre to post production. It is said, once inside, one can make a complete movie ready for theatrical release!
Salar Jung Museum
Salar Jung Museum, named after Nawab Salar Jung III of Hyderabad, is a home to one of the largest and most precious private collections of the Nawab. Declared as an Institution of National Importance by the Indian Parliament., there are fascinating and beautiful art collections from different parts of the world. Indian art, Ivory craftsmanship from China, European sculpture, paintings and pottery dating back to 1st century AD makes this museum a storehouse of knowledge! Do not leave without having looked at Veiled Rebecca by Italian neoclassical sculptor, Giovanni Maria Benzoni.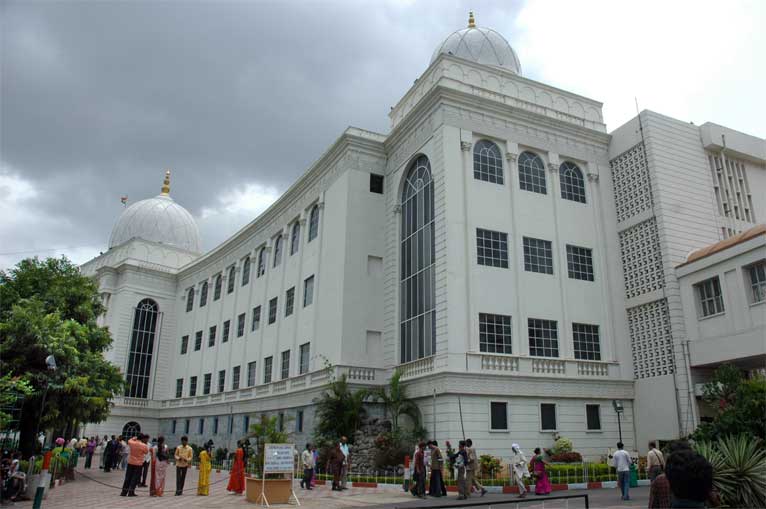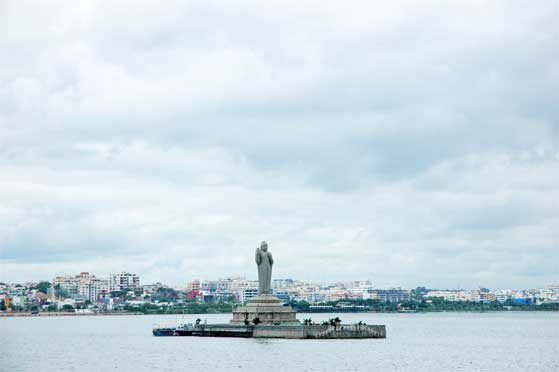 Hussain Sagar
Hussain Sagar Lake, built by Hazrat Hussain Shah Wahi in 1562, is a picturesque water body that lies between the twin cities of Hyderabad and Secunderabad.. The huge statue of Lord Buddha situated at the middle of the lake is a tourist attraction. 16 meters tall and 350 ton white granite statue of Buddha rests on Gibraltar Rock. Lumbini Park by the lake is a great place to spend the evening along with family. Another remarkable feature about this place is the Laser light show. An excellent way to project and narrate the history of Hyderabad using water screen! A stroll down the necklace road after the show makes a perfect evening.
Comments are closed.