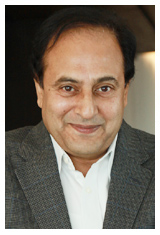 Gary Khan
CEO
Hyderabad Conventions Visitor Bureau.
Mr. Jalil Khan is a veteran strategist and tactician, with more than 23 years of rich and diverse leadership experience in managing the travel and tourism business lines. He holds an MBA (Marketing, Corporate Finance and Multinational Enterprises) from one of the premium universities in the United States. He has been a globetrotter since his childhood and was educated in some of the finest private schools spanning 4 continents: United States, Europe, Asia and Africa.
As a District Account Manager at United Airlines in San Francisco, he managed the top revenue territory of corporate Fortune 500 accounts in Northern California with over $290 M in Air Travel and Leisure spend. Throughout his 23 years with United Airlines, he has demonstrated a consistent track record of delivering extraordinary results in growth, revenue and sales performance.
He is a charismatic and natural salesman; his airline industry pedigree gives him a strong predilection for customer expectation, management and destination marketing.
Having pioneered and spearheaded numerous initiatives on Exhibition/Convention Sales and Group Meeting Agreements, he has establishes a successful track record while being in charge; a demonstrated acumen for team motivation, and proclivity for analytical detail. He was United Airlines' point person entrusted with autonomous authority to conduct worldwide negotiations in corporate volume agreements.
He has in-depth perception of current trends, technological developments, and competition-influencing vectors in the global travel industry and convention sales.
He was responsible for initiating and finalising numerous high-revenue deals by conducting seminars/symposiums on geo-political realities and cross-cultural sensitivities; educating U.S Tour Operators and wholesalers to promote international destinations to their customers. With United Airlines commencing Round-the-World service in 1999, he was commissioned to introduce corporate sales in India holding educational seminars to travel agencies and corporate customers throughout India and building an impressive customer oriented network.
As United's international marketing emissary, he has hosted familiarization and global expeditions with tour operators and key end-use for first-hand familiarity with corporate goals facilitating a win-win disposition
Mr. Khan's inspiration for Destination Marketing has been influenced by a select fraternity of world leaders and institutions, more notable the Ministry of Tourism, Government of Telangana, India as well as by the vision and statesmanship of HH Prince Sultan bin Salman bin Abdul Aziz, the Minister for Tourism, and HH Prince Turki Al Faisal bin Abdul Aziz (the son of the late King Faisal) of Saudi Arabia during his privileged, private audiences in Riyadh, Saudi Arabia in March 2010.
Comments are closed.